Hoop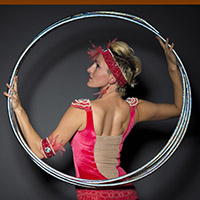 Lindy Hoop
(5 mins stage routine)
Lindy Hoop is a high energy, fun and stylish piece to a specially mixed Electro-Swing track. Optional use of LED glowhoops. Choreographed with authentic swing dance moves from world-class dancers in Melbourne, Australia.
Lindy-hoppin', jaw-droppin', eyeball-poppin', earlobe-loppin', caption-stoppin'
Loz's act was a huge hit with the audience combining great hooping skills with a huge amount of charisma!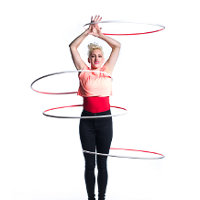 Contemporary Hoop - It's hard having fun
5 mins 20s stage routine
Loz has an elegant, smooth hooping style. This piece combines innovative hulahooping with Loz's contemporary dance training. It was featured in the UK Circus Competition, Circus Maximus. Hosted by Udderbelly Productions and Circus Space.
Loz was fantastic! A crowd-pleaser as usual.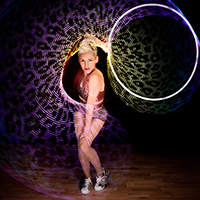 Glow hoops - LED hoops
Loz Because's LED hulahooping is beautiful, astonishing, and captivating. Loz is a trained dancer and brilliant hulahooper. Her eye-catching glowing hoops, dazzling costumes and exciting choreography never fail to delight audiences world-wide.
Loz performed her glowhooping at the Amman festival in Jordan for 40 000 people – she got a bigger cheer than the pop stars!
Wow! Loz was spot-on once again! She really has that certain something on stage - you can't take your eyes off her!"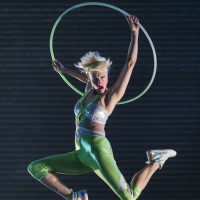 Comedy Caberet - B'Coz
5 -15 mins stage routine
Loz B'Coz is a (minor) celebrity in her small Bristol neighbourhood. With deluded ideas of self-grandeur, she is the figurehead for the "Bristol Hoop Massive".
Loz smashed it tonight! She had the audience laughing and cheering from the moment she entered the stage - great performance! She was also utterly polite and professional offstage too. I noted she was very accommodating and easy to work with." "
HILARIOUS caberet stage piece. Comic monologue, interaction with the audience, skillful comedy hulahooping. Character is a hip-hop hoop dancing idiot with a hulahoop or 4. She does hoop. Hoops are in it. Audience participation optional MANDATORY.