Street Show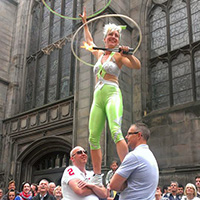 Just Because
35 - 45 min street theatre piece
Fun and frolics in a festival style streetshow! Loz Because plays with audience members of all ages. A show of comedy prop-manipulation and stupendous hula-hooping skills!
She is one funny lady! I wish she were less funny, I couldn't keep the camera still!
To finish the show, two strong and manly man-types must brave the stage and work together to build a death-defying, hoop-spinning and fire-eating, human pyramid.
Suitable for all ages.